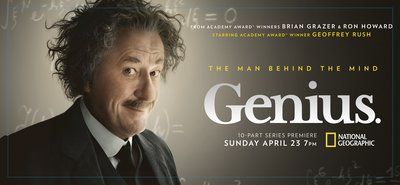 National Geographic's biopic series "Genius" about the life of Albert Einstein is receiving positive feedback, according to user reviews from the movie database, IMDB. However, the latest episode, the eighth in a ten part series, may cause a stir among those who are familiar with Albert Einstein's views about God.
For the second time in the series, Albert Einstein was quoted – without qualification – as being a believer in a traditional "creator God." The fictional Einstein, played by actor Geoffrey Rush, states,
"What I believe is that the universe is so extraordinary only God could have created it."
Albert Einstein has no such quote and is well known by scholars and by his own words to have rejected the idea of a personal creator God. Yet, he is often claimed by theists as one of their own.
The series is based on the writings of Walter Isaacson – himself reportedly a theist – who has been previously accused of spreading false quotes about Einstein and his supposed theistic ideas. The quote in the series appears to be based on a 1954 interview in which Einstein stated in full,
"I cannot prove to you that there is no personal God, but if I were to speak of him, I would be a liar. I do not believe in the God of theology who rewards and punishes evil. My God created laws that take care of that. His universe is not ruled by wishful thinking, but by immutable laws."