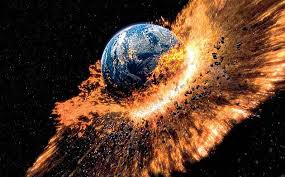 Mark your calendar. The world is slated to end (yet again) on June 24, 2018. So says conspiracy theorist and self proclaimed "prophet" Mathieu Jean-Marc Joseph Rodrigue.
He believes the Bible supports his doomsday theory, citing the passage in Revelation 13:5, which he claims points to the end of days. It reads, "…he was given authority to act for 42 months."
He said he can support this cryptic passage with math and visions. In an interview with the Daily Star, Rodrigue said: "I heard a voice in the middle of the four living beings. This is wisdom. He who has intelligence can interpret the figure of the beast. It represents the name of a man. His figure is 666." He claims by adding the number of crop harvests with the price hike, it should produce the doomsday date.
Many have foretold the impending annihilation of Earth repeatedly throughout history, but for some strange reason it never happens as predicted. Just last year, David Meade falsely predicted a planet named Nibiru would slam into Earth and explode. Happily, we're still here.  In antiquity, Pope Sylvester proclaimed Jesus would return in the year 1000. It didn't happen. Emanuel Swedenborg preached it would happen in 1757; then William Miller said it would end in 1843 and 1844, for good measure; Charles Taze Russell said all would be lost in 1874; Mormon founder Joseph Smith predicted it would end in 1891; The Watchtower Society (of the Jehovah's Witnesses) said time's up in 1914; Herbert Armstrong confusingly predicted four separate dates, including 1935, 1943, 1972 and 1975; Harold Camping said 1994 and 2011 would see the end of days. Edgar Cayce guessed the year 2000; Jack Van Impe said 2012; and Mark Blitz proclaimed 2015.  Thankfully, mankind has survived and the Earth is still here. For now.