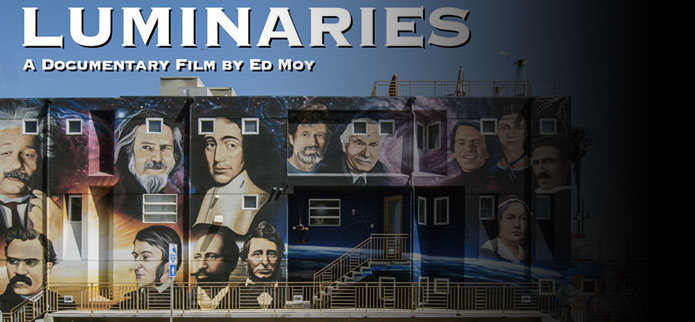 A new documentary about the "Luminaries of Pantheism" mural in Venice Beach, California has won the "Audience Award" at the Marina Del Rey Film Festival. The annual festival screened over 150 films between October 4 -8, 2017, and held its Awards Ceremony on October 9, 2017.
Located in the Los Angeles area, The Marina Del Rey Film Festival fosters up and coming filmmakers throughout the entertainment capital's region. Directed and produced by documentarian Ed Moy, the winning short film, simply titled "Luminaries," showcases the creation and historical background of one of the most popular murals in the Los Angeles area.
The subject of the documentary is at the end of South Venice Boulevard where it meets Venice Beach. The mural spans the entire length of a large building, which serves as the headquarters of the philosophical organization, The Paradise Project. Facing the famous Venice Boardwalk, it is visible to more than a million visitors each year. The painting nearly always has a camera-ready crowd gathered in front of it, with #luminariesofpantheism tagged photos appearing frequently on social media sites. The site is also recognized by Google Maps as a Public Art tourist destination.
"Luminaries of Pantheism" features 16 famous philosophers, scientists and poets who believe that 'Everything is connected, and everything is divine." It was conceived by The Paradise Project chairman, Perry Rod. A contest was subsequently held to choose the winning design, which was created by local artist Peter Moriarty. Finally, the mural was painted over a two- month period in early 2015 by the international famed muralist, Levi Ponce. Each of these contributors have prominent roles in the film, along with The Paradise Project board members Nika Avila and Chuck Beebe.
Covering both the making of the mural and some of the story behind its famous "luminaries," the documentary was a hit with festival-goers. This is the second win for director Ed Moy, who won for best documentary in 2016 for the film, "Aviatrix: The Katherine Sui Fun Cheung Story." Plans are in the works for an extended version of the film, which will cover more of the subjects featured within the mural.
See the short form of the documentary here