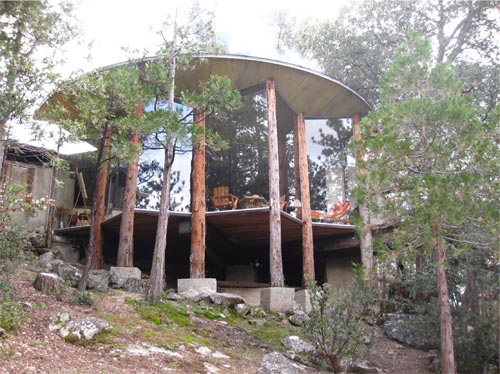 About an hour east of of Riverside, California is the small town of Idyllwild, California. There, amongst the trees, twisting roads and the mountains is a place called The Pearlman Mountain Cabin which was designed by noted architect John Lautner, an early apprentice of Frank Lloyd Wright.
The cabin is now listed on the National Registry of Historic Places as an, "excellent example of the Organic influenced Mid-century Modern architecture of master architect John Lautner." The National Park Service website describes it as exemplifying,
"Important characteristics of Lautner's work from this period; displays the significant character-defining features of Organic architecture; dates from the period of significance; exhibits quality of design; and retains all seven factors of integrity. The period of significance is 1957, reflecting the date that the house was completed."
Nancy Pearlman, Secretary of the Universal Pantheist Society, is hosting a public visit and fundraiser for the Universal Pantheist Society, a pantheist organization established in 1975. The group promotes a modern understanding of pantheism and publishes a quarterly journal, Pantheist Vision.
The next public visit is being held on May 12th, 2018, at 11:30 a.m., as a joint fundraiser for both the Universal Pantheist Society and the non-profit, Educational Communications. Nancy is also the Executive Director of that organization, founded in 1958 to work on social, peace, art, media, and environmental change.
The visit, which includes a vegetarian luncheon, is available for a $25 tax-deductible donation per person. After the luncheon, Nancy promises to tell the story of the cabin, leaving the rest of the afternoon to tour the building, and engage in conversations, stories, music, and other activities including a walk to Strawberry Creek and the mountains.
She invites guests to R.S.V.P. with name and contact phone number to Nancy Pearlman, Nancysuepearlman@aol.com
More Information:
LA land line: (310) 559-9160, cell phone (213) 705-4992, Idyllwild (951) 659-3416.