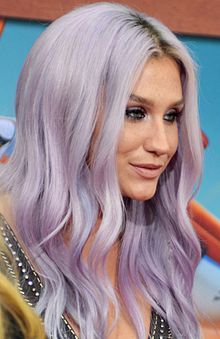 American singer and songwriter Kesha (Kesha Rose Sebert) is releasing her first single in almost four years, "Prayer," a spiritual themed song she says is about, "learning to let go and realize that the universe is in control of my fate, not me." In a blog post, she clarifies that her spiritual idea of God is pantheistic rather than theistic:
"For me, God is not a bearded man sitting in the clouds or a judgmental, homophobic tyrant waiting to send everyone to eternal damnation. God is nature and space and energy and the universe. My own interpretation of spirituality isn't important, because we all have our own. What matters is that I have something greater than me as an individual that helps bring me peace. This is one of the reasons why I love swimming way, way out into the middle of the ocean and just letting the sea carry my body. It is my greatest form of surrender to the universe, a full-body prayer — or meditation."
Kesha, born in Los Angeles to a mother who is also a singer-songwriter, has been involved in four Billboard number one hits: "Right Round," "Tik Tok," "We R Who We R," and "Timber." She then became involved in a prolonged legal dispute with her former producer Dr. Luke, who she claimed physically and emotionally abused her.
"Prayer" is a departure from her prior traditional pop focus that began in 2005 at the age of 18 into more personalized music. Now 30 years old, she says,
"In the past couple of years, I have grown into a strong, independent woman. I have realized through this long journey of ups and downs that if I'm lucky enough to have a voice that people listen to, then I should use it for good and for truth. I've battled intense anxiety and depression, a relentless eating disorder, and all the other basic bullshit that comes with being human. I know I'm not alone in that battle. Finding the strength to come forward about these things is not easy, but I want to help others who are going through tough times."