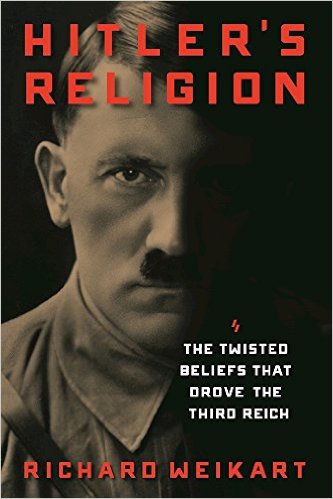 Richard Weikart, professor of history at California State University, Stanislaus, has penned a new book about Adolf Hitler, claiming, among other things, that Hitler was a pantheist. The book summary:
"Adolf Hitler was a pantheist who believed nature was God. In Hitler's Religion, Weikart explains how the laws of nature became Hitler's only moral guide—how he became convinced he would serve God by annihilating supposedly "inferior" human beings and promoting the welfare and reproduction of the allegedly superior Aryans in accordance with racist forms of Darwinism prevalent at the time."
Weikart is a Senior Fellow of the Discovery Institute, a controversial organization based in Seattle, Washington, which advocates the pseudoscientific principle of intelligent design. The anti-evolution group aims to have public high schools teach religious anti-Darwin views alongside scientific theories.
Weikart has written similar books in the past, claiming that Darwinian teachings led to racism in Germany. The academic community has been widely critical of those books. Historian Daniel Gasman reviewed the book saying it should be read with "caution." University of Chicago historian Robert Richards calls Weikart's books, "a desperate tactic to undermine evolution," concluding that, "There's not the slightest shred of evidence that Hitler read Darwin," and "Some of the biggest influences on Hitler's anti-Semitism were opposed to evolution, such as British writer Houston Stewart Chamberlain, whose racial theory became incorporated into Nazi doctrine." Several academics put out a statement about the author's attempt to link Hitler and Darwin:
"Weikart's claims regarding a lineage from Darwin to Hitler via Haeckel have been examined by historians of science and indeed have generally been found lacking. Numerous reviews have accused Weikart of selectively viewing his rich primary material, ignoring political, social, psychological, and economic factors that may have played key roles in the post-Darwinian development of Nazi eugenics and racism. Since there is no clear and unique line from Darwinian naturalism to Nazi atrocities, useful causal relationships are difficult to infer; thus, as Robert J. Richards observes, 'it can only be a tendentious and dogmatically driven assessment that would condemn Darwin for the crimes of the Nazis'."
Like "atheism", pantheism has a long history as a term of theological abuse, according to author A.H. Armstrong and others. As recently as 2010, Pope Benedict XVI criticized the movie, Avatar, for "promoting pantheism."
Adolf Hitler's religious views have been studied extensively and include no links with pantheistic ideas nor evidence that Hitler ever explored such theological concepts according to the mainstream academic views .
UPDATE: A previous version of this article stated that the book was funded by the Discovery Institute. The author states that his religious anti-Darwin book is actually funded by a public university, California State University, Stanislaus.